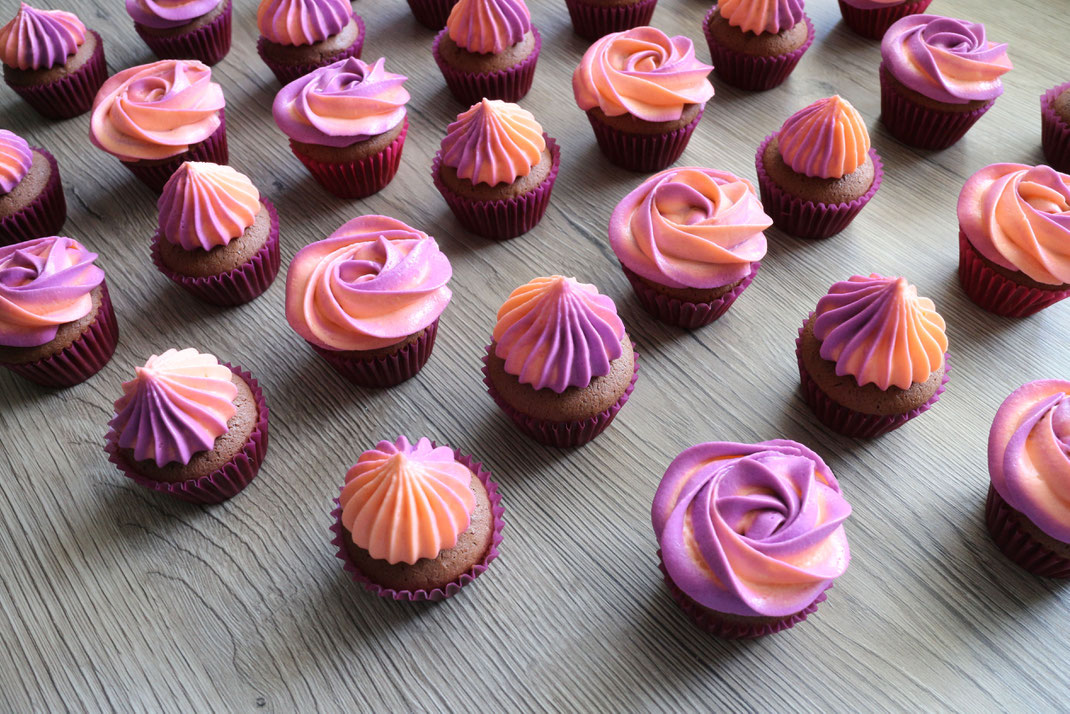 Peach is my new favourite colour, except of course pink, purple, turquoise, ... :-) I can never decide, but the color combination for my little mini muffins turned out very well this time.
 
I simply baked and decorated mini chocolate muffins. The frosting was ready to use because I was to lazy to make my own. To get this special effect, I dyed about 2/3 in the main color, in my case peach* and the rest in a second color, in my case a combination of purple* and rose*. You also need two piping bags* with the tips 2D* and 8B* or 6B*.
 
For the rosettes, first fill the piping bag with the 2D* tip with some of the second colour and spread the frosting in it so that the whole bag is covered. Then pull the bag apart to create a hollow space, fill in the main colour with a spoon and gently press it down in the middle without mixing it with the second colour. This gives this pretty effect when piping the rosettes. As always with rosettes, start piping in the middle and let the end run out at the edge.
 
The stars are piped with the 8/6B*. Spread some frosting of the second colour on one side and fill the rest with the main colour. Afterwards you can simply pipe stars.
Affiliate links/advertising links/advertisements:

 
The links marked with an asterisk (*) are so-called affiliate links. If you click on such an affiliate link and purchase via this link, I will receive a commission from the respective online shop. For you, the price does not change and I only recommend items that I have used myself and found to be good. As an Amazon Associate I earn from qualifying purchases.