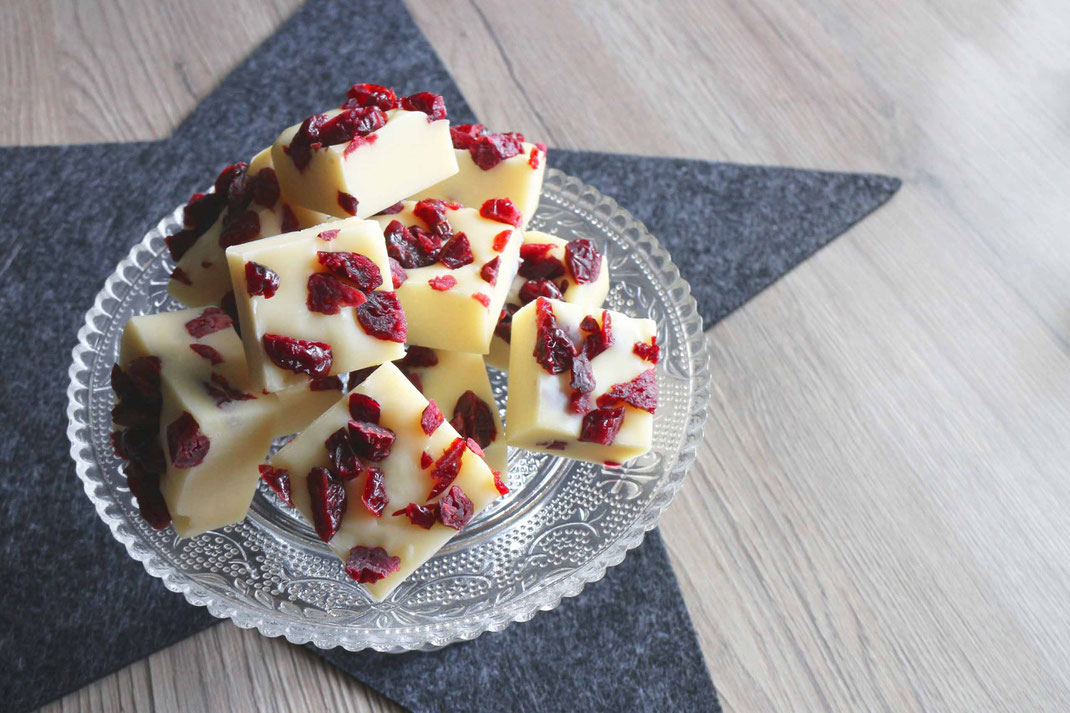 Today we have the recipe for delicious cranberry fudge with white chocolate. I love little treats like this and could snack on them all the time, but this is what it is made for. You only need a few ingredients and a mould* (about 18x18 cm or similar) in which the fudge can be chilled. I find a silicone mould* most practical, because you can easily release the fudge from it.
Put 450g white chocolate, 225ml sweetened condensed milk* and 1 teaspoon glucose syrup* in a pot and stir at low temperature until everything has melted and combined. Add some vanilla or vanilla flavor and a pinch of salt and fold in about 75g of chopped cranberries*. Spread the mixture in the silicone mould and press 75g of cranberries on the surface. Let it chill in the refrigerator, remove from the mould, cut and enjoy :-)
Affiliate links/advertising links/advertisements:

 
The links marked with an asterisk (*) are so-called affiliate links. If you click on such an affiliate link and purchase via this link, I will receive a commission from the respective online shop. For you, the price does not change and I only recommend items that I have used myself and found to be good. As an Amazon Associate I earn from qualifying purchases.