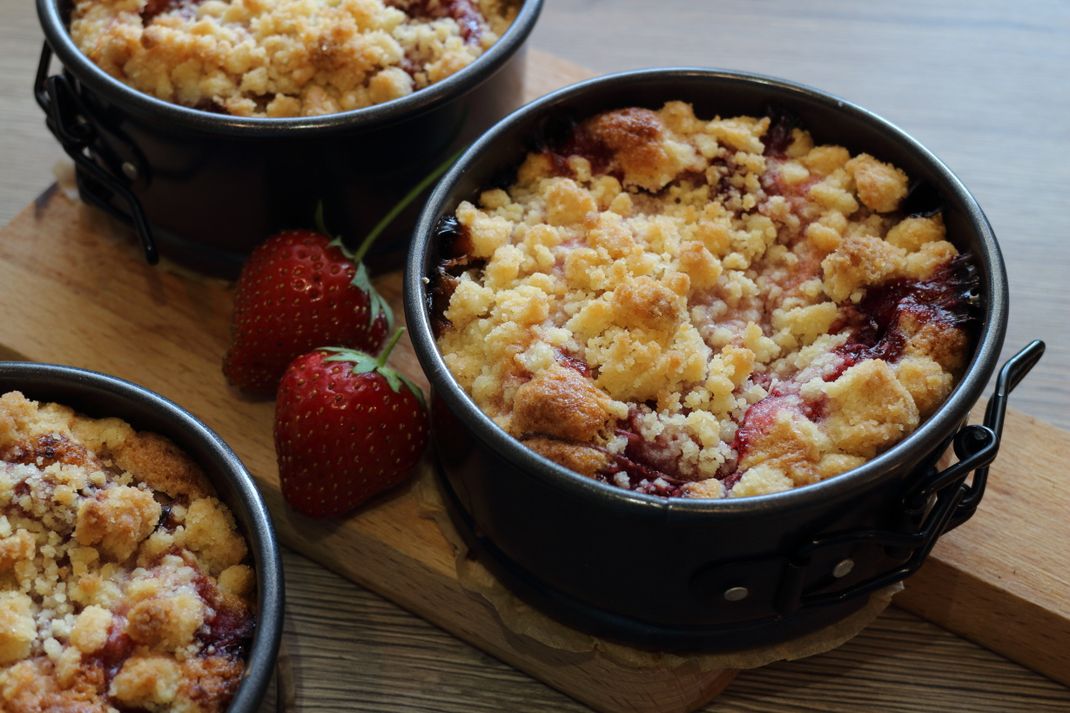 A few weeks ago I baked for my family the rhubarb strawberry cake out Yotam Ottolenghis baking book Sweet*. We did love the combination of strawberries and rhubarb but some of the ingredience haven't been to our tast and I also thought the amount of the crums was not fitting to the size of the cake so I came up with some alterations and created this recipe. Because I needed it for a dessert I thought it would be nice to bake them in this six little springform pans*. You can also use the same amount in one big spring pan*.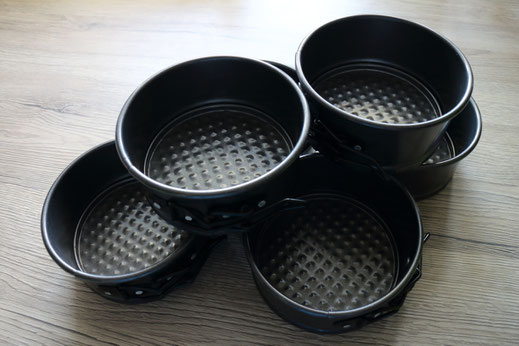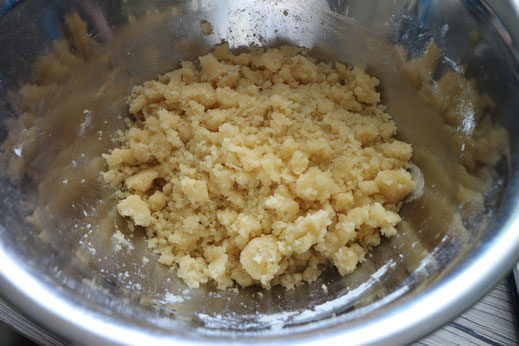 For the crumbs you need the following ingredients:
- 60g melted butter
- 75g sugar
- 110g flour
Mix all of it in a bowl with your hands till you get crumbs.
For the fruite mixture combine:
-250g strawberries (cut in quarters)
-250g rhubarb (cut in about 1cm big pieces)
-25g sugar
-25g cornstarch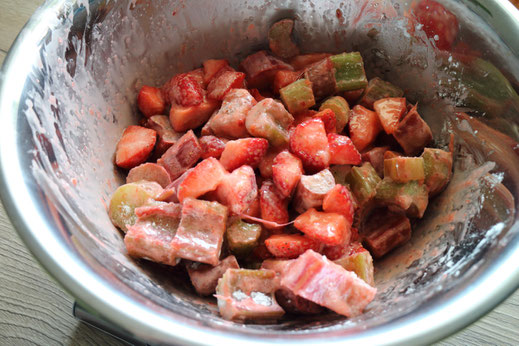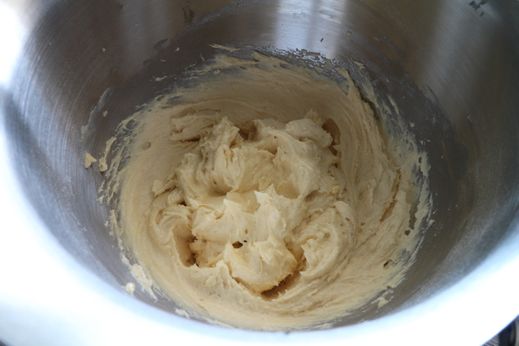 For the batter you need the following ingredience:
-180g flour
-1/2 teespoon baking powder
-160g soft butter
-200 powder sugar
-3 eggs
-1/4 teespoon salt
First whisk the butter in your standmixer till it looks light and foamy. Add first the sugar, afterwards the eggs and last the dry ingredience and whisk them part by part under the butter.
To get the cake easy out of the pan later on you cover the bottom of the pan with baking paper. Some people cut out the circle shape but thats to complicate for me. I just cut out little squares and clamp then between the bottom and top part of the pan. You can cut around on the outside if you don't want to have that much paper sticking out. Now fill the batter in the six springform pans (the same amount of batter should be also work in one big 23cm springform pan) and put the fruite mixture on top. Now add the crumbles and bake the cakes  at 180°C convection setting. After 30min cover the cakes with aluminium foil and lower the heat about 20°C for 40min (bake all together 70min).  Let the cake cool down completely and cut around the edge before you get them out of the pan.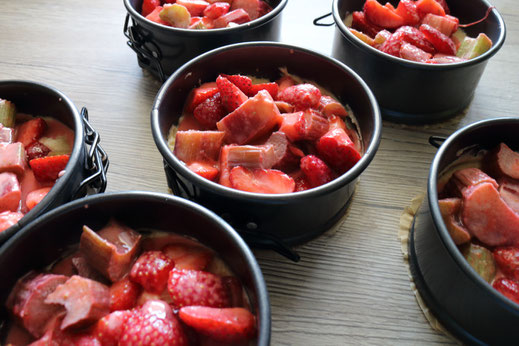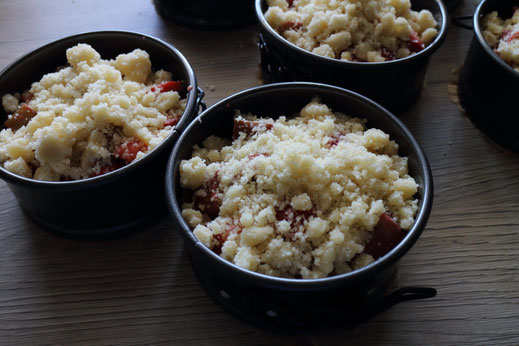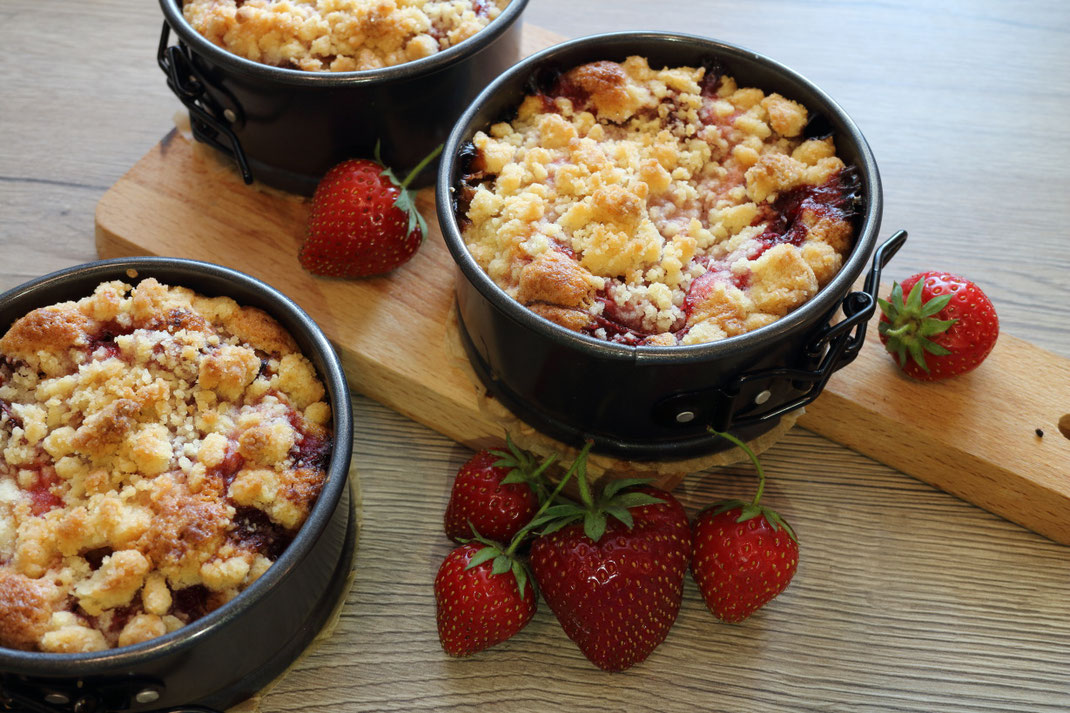 Affiliate links/advertising links/advertisements:

 
The links marked with an asterisk (*) are so-called affiliate links. If you click on such an affiliate link and purchase via this link, I will receive a commission from the respective online shop. For you, the price does not change and I only recommend items that I have used myself and found to be good. As an Amazon Associate I earn from qualifying purchases.