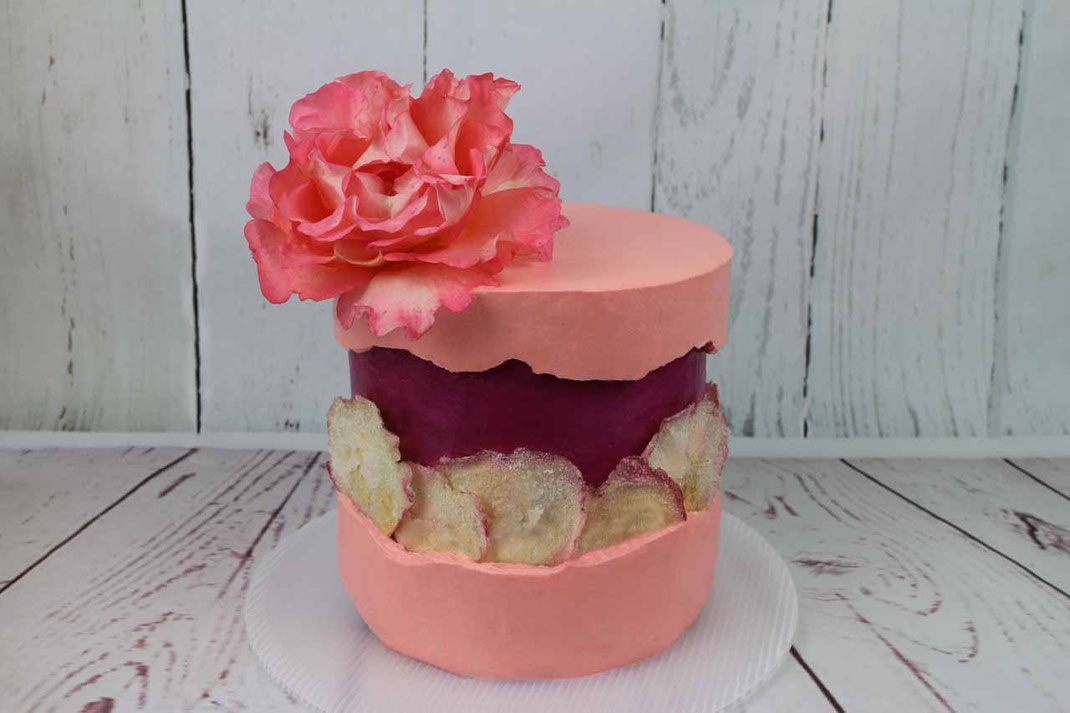 I tried another variant of a fault line cake because I just love this special kind of cakes with so many option to make it unique. I this case I used candied rose petals and a beautifully rose out of our own garden. 
You can make candied rose petals on your own so easy. You just need the petals, sugar and egg white. I prefer to buy already pasteurized egg whites if it does not get heated up in the procedure like in our case.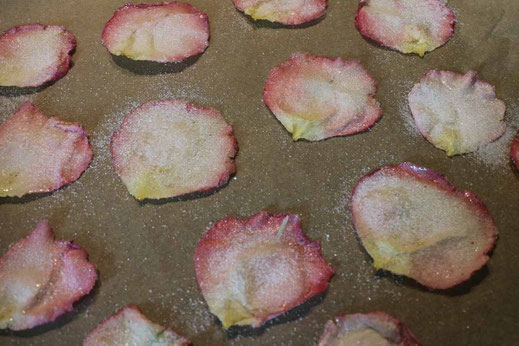 Dip the rose petals into the egg white and put them on a baking sheet you covered before with some sugar. Now sprinkle some more sugar on the top till the petals are totally covered. Now you can dry them for about 2-3h in your convection oven on about 80°C.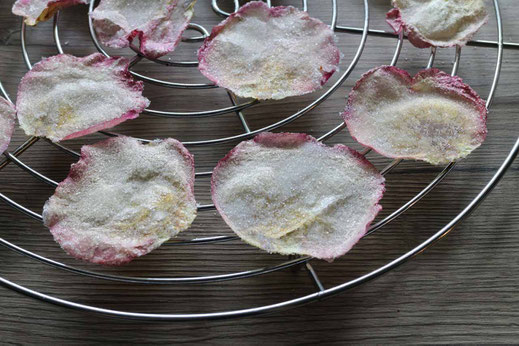 After they dried completely I took them carefully out of the oven and kept them on a rack till I put them on the cake. 
The cake is like always covered with the upside down method and buttercream with sweetened condensed milk. Beat about 500g of butter till its smooth and add 2 canes of sweetened condensed milk with the same temperature to it, till the cream is smooth. Dye about a quarter of the buttercream with burgundy and rose till you get a dark berry color. The rest of the buttercream you dye with peach food color. 
Start to assemble the cake with a layer of peach buttercream on a smooth plate covered with a baking sheet. Stack your cake on it an cover it on the sides with the berry colored buttercream. Now you can start to assemble the rose petals with a little buttercream. Be careful to put them on upside down, because you will turn the cake later. Now you need to freeze the cake for a few minutes or cool for half an hour to harden the buttercream. 
Now you pipe the peach colored buttercream with a piping bag in your desired shape on the cake. Make sure the rose petals are covered on the side which is currently on top (later on the bottom) and you can still see the berry colored buttercream below the rose petals. Now you can smoothen the buttercream with a spatula. It does not hurt to freeze or cool the cake in between again and heat up the spatula under warm water. This makes it easier to smoothen the buttercream. Now you just have to put a cakeboard on top of the cake and turn it around. Pull off the baking sheet and if necessary smoothen the top again if there are small wholes. The last step is to add the rose as decoration. I put the stem into a small tube with water which I stuck into the cake, to not dry the rose out and have the stem separated from the cake.