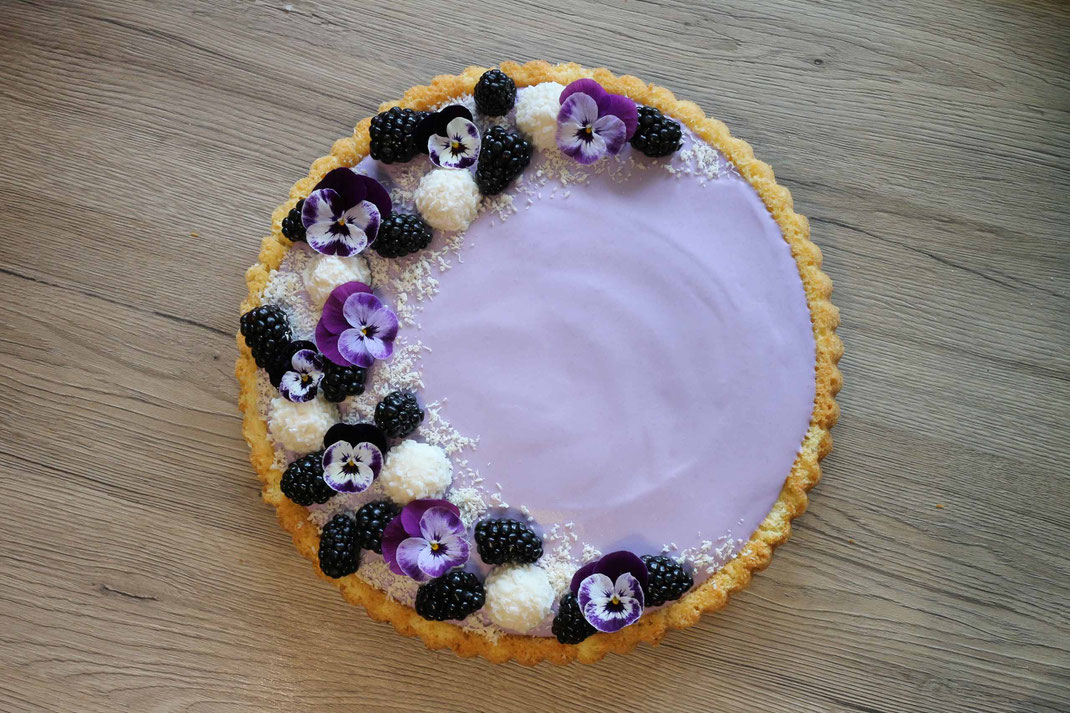 For the cake base:
- 100g flour
- 40g coconut flakes + more to coat the mold
- 2 1/2 teaspoon baking powder
- 100g sugar
- teaspoon of vanilla
- 4 eggs
- 3 tablespoons of oil
For the cheesecake:
- 200g cream cheese
- 100g berries pureed and strained
- 50g sugar
- 100 ml (not whipped) cream
- purple food coloring*
- 4.5 g of gelatin* and 3 tablespoons of water
 
For decoration:
- Blackberries
- Raffaello and shredded coconut
- edible flowers
Place all the ingredients for the cake base in a bowl and beat the mixture until it has completely combined. Grease the tart pan* and cover it with coconut flakes. Make sure that the entire surface is covered, otherwise it is difficult to remove the cake from the pan. Pour in the mixture and bake the cake at 180°C convection setting for 15 minutes. When it is completely chilled, you can prepare the cheesecake batter. Mix all the ingredients except the gelatin* to get a smooth mixture. Prepare the gelatin according to the instructions on the packet and add a few spoons of the cheesecake mixture to the gelatin before you fold it into the rest of the mixture  and pour it onto the cake. Depending on the size of the pan, the mixture might be a bit too much, but it also tastes good as a dessert in a glass. Leave the cheesecake to harden for at least 3-4 hours or preferably overnight and then decorate it.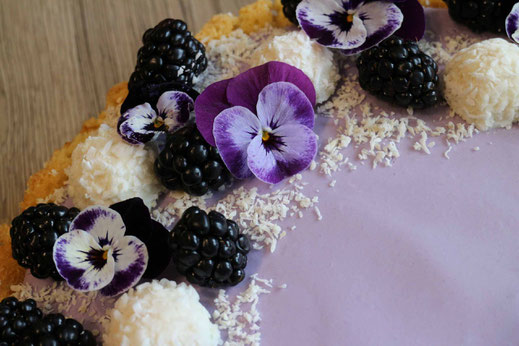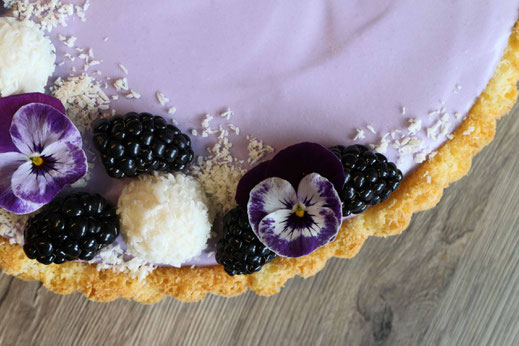 Affiliate links/advertising links/advertisements:

 
The links marked with an asterisk (*) are so-called affiliate links. If you click on such an affiliate link and purchase via this link, I will receive a commission from the respective online shop. For you, the price does not change and I only recommend items that I have used myself and found to be good. As an Amazon Associate I earn from qualifying purchases.